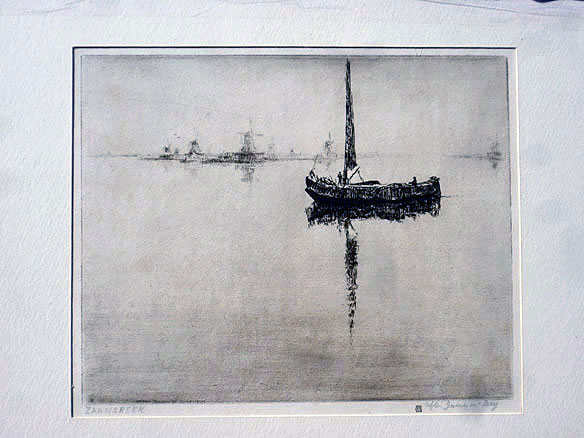 A print of an etching by the Scottish artist James McBey entitled "Zaanstreek" and showing a Dutch canal scene with a barge and windmill in the distance. It bears a signature  and title in pencil and a small stamp, verso, indicates that it is Plate 12 from a proof in the possession of Martin Hardie  R.E., published by Colnaghi and Co. In good condition.
* My thanks go to Jane at the Allinson Gallery who tells me that this is a reproduction published in The Studio publication, Modern Masters of Etching: James McBey.
It is the 12th plate in the book and that the signature and title are not in McBey's handwriting.
Measures 23 cm wide by 19 cm deep (41.5 cm by 33 cm in its original mount and frame).